Food & Drink
Local ingredients and a rich culinary tradition make Berks County a treasure trove for foodies. As such, you'll find incredible food and drink options throughout Pennsylvania's Americana Region. 
Reading & Berks County Restaurants
Reading and Berks County boast an eclectic mix of restaurants and dining experiences.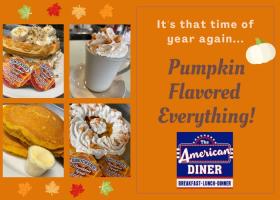 Enjoy breakfast all day at the various diners across the county.  Make a lunch stop at one of our farmers markets and opt for a local favorite, a handcrafted pretzel sandwich. Or, weather-permitting, dine al fresco at one of the wonderful eateries that dot our Main Streets.  For a morning or afternoon pick-me-up, you'll find a selection of cafes serving espresso drinks and herbal teas. 
Elevate your night out at any of our fine dining restaurants offering innovative cuisine and cocktails in beautiful settings, like Judy's on Cherry. Sample authentic PA Dutch fare at Deitsch Eck Restaurant, where hex signs line the walls and corn pies, apple fritters, and potato pancakes are on the menu.
Grab a sweet treat at Sweet Street Cafe, or your favorite sundae at Sweet Ride Ice Cream, or the Great American Creamery. And you won't believe
the selection of old-fashioned candy at The Peppermint Stick Candy Shop. For a nightcap, hit our pubs and taverns serving next-level bar food, craft beer, and welcoming vibes.
Whether you're eating out with a large group of friends or your significant other, there's always a table for you at our Reading restaurants.
Wineries & Breweries
Home to countless wineries and breweries, Americana is rich in tasty locally-made beverages.
Travel our country roads to the picturesque wineries and vineyards of the Berks County Wine Trail. Besides wine tastings and vineyard strolls, you
can enjoy happy hours, live concerts, and wine-pairing events. 
See what's brewing on our BrewHaHa Trail, which features four local breweries and several outstanding bars. Enjoy an afternoon or night of locally crafted ales and lagers, events like trivia, and delicious pub food. Take the experience up a notch by downloading the trail passport and getting stamps at all four brewery locations for a chance to win prizes.