Who Recommends Us?
The County Commissioners Association of PA held our Annual Conference in Reading in August 2019 using the DoubleTree by Hilton Reading, the Santander Arena and a few overflow hotels in West Reading. Our Conference brought over 500 members, vendors and exhibitors to the city.
Our staff spends almost a full year planning the Conference agenda and events. We worked with the wonderful staff at both the DoubleTree for all of our meetings and the Arena for our trade show and exhibits. I can't say enough about our stellar experience at the DoubleTree. The hotel is a top award winner for a reason! The attention to detail, cheerful attitude of every single staff member, beautiful facility and incredible food make this venue a must for any group! I can't wait to go back just to experience this hotel again!
All along the way we worked with Margo from the CVB who not only helped us with our regular conference asks, but also assisted me with some unexpected items where we really needed her expertise and knowledge of the Reading area. She absolutely went the extra mile to help us deliver an amazing conference. Her customer service is excellent! Reading is lucky to have her.
Terry Cochran
Senior Meeting Planner
County Commissioners Association of PA
Harrisburg, PA
---
"Reading, PA has been one of my favorite cities to work with as we lead women's events all over the country. We brought Priscilla Shirer (author, speaker, star of the War Room Movie in 2015) to Reading and drew just under 7,000 attendees and simulcasted the LIVE event all over the world.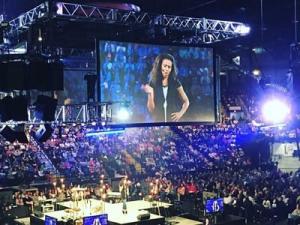 The professional courtesy that we experienced at the Santander Arena helped our event run smoothly and served our attendees and my team well. The staff gave me confidence that they were a true partner in our event.
The Double Tree by Hilton Reading went over and above in every facet to serve my team, my platform, and our guests. The hotel and it's rooms were beautiful, extremely clean and welcoming. Not to mention that the hot cookies were an added bonus. Their restaurant was one of the best that I have had the pleasure of visiting as I travel the US and stay in many hotels.
If you are looking at Reading as a potential event site, make sure that you contact Margo at the CVB. She walked along side of me the whole way, even answering any text messages or telephone calls about the smallest detail of the city. She knows and loves her city to give you the best. Reading is on our list to visit again in the near future. Thank you Reading for such a great experience and a wonderful event."
Tammy Slayton
Event Coordinator
LifeWay Christian Resources
Nashville, TN
---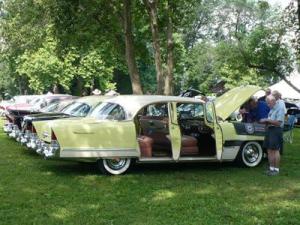 "Following the successful and well-attended PAC National Meet July 12th -18th, I speak for all of us in sending our sincere commendation to Pennsylvania's Americana Region for the outstanding service you provided, starting way back a year or more before the event. You personally, Margo, as well as your entire staff were most helpful in so many ways, and your attention to details, venue selections, the IMAX movie night, parking arrangements, and working with Stella on refreshments, played a major role in enhancing an almost flawless series of events that week.
We send along our gratitude, kudos and thanks to all for a job truly well-done."
Keystone Packards
Bob Teller, V.P. Regions
Packard Automobile Classics
---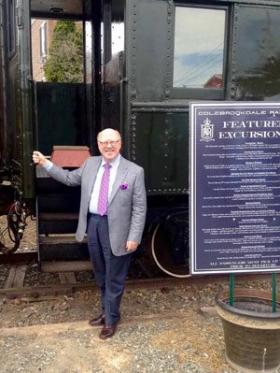 "Following PBA in Valley Forge, PA, under the direction of Margo DeRouchie, National Sales Director, Pennsylvania's Americana Region, we enjoyed an outstanding FAM tour in the Berks County Area. They housed us; we enjoyed outstanding meals, and quality attractions. I would encourage anyone who has not taken their groups to the Berks County Area, to give Margo a call, and set up a visit. You will not be disappointed!
Since the FAM, we took a bus load of people to Boyertown, PA, on a Mystery Tour to visit the Boyertown Museum of Historic Vehicles (hidden gem), and a 2 hour train ride on the Colebrookdale Railroad. We were treated very special by all parties involved. Wonderful service! Michelle and Nathaniel, at the railroad had everything under complete control, and our passengers were very pleased. I look forward to doing more business with the people in Berks County! Thanks, Margo."
Bob Mock
Tour Operator
Bollman Charter Service, Everett, PA
---
"In the past several months, we have taken two one day mystery trips to the Greater Reading area.
Our first mystery day trip took us to Reading, PA, where we met our tour guide Charlie Adams for our tour of the Charles Evans Cemetery and the local area. What a treat to have Charlie take us through the cemetery giving us the stories of famous people and ghosts along with many other interesting things about this cemetery. Following our visit to the cemetery, we took a city tour on our coach. Our lunch was really a treat at the beautiful Stirling Guest Hotel. The Stirling is a restored 1892 mansion with a carriage house and is located in Reading's Centre Park Historic District. The mansion features extraordinary architecture and beautiful furnishings with each room having been completed in different wood works. The group enjoyed a delicious tea luncheon buffet while at the Stirling Guest Hotel.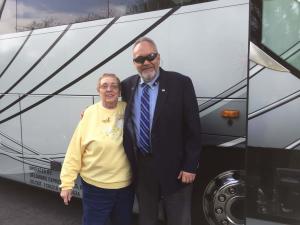 Our second mystery daytrip to the Greater Reading area took us to the Conrad Weiser Homestead in Womelsdorf. Here the group learned of Conrad Weiser and his work with the Iroquois Indians in the French and Indian War. He was also an important figure in the colonial frontier settlement. The volunteers that conducted our tour were very informative. The group had a nice buffet lunch at The Stouch Tavern in Womelsdorf. The tavern had been a stagecoach stop.
Originally visited as a mystery day trip in December of 2014, The Colebrookdale Railroad has become one of our groups train trips. The staff of the railroad do a great job and also if having lunch on the train one will find the menu to be very tasty.
Our tour company with the assistance of Margo DeRouchie, (Pennsylvania's Americana Region) has recently visited some gems in the Reading area. The gems were: Colebrookdale Railroad, The Charles Evans Cemetery, The Gables at Stirling Guest Hotel, Conrad Weiser Homestead and the Stouch Tavern. Many of our passengers were unaware of the attractions that we visited and we look forward to many more motorcoach trips to the area."
Bea Foster
C and Bea Tours & Cruises, Inc
---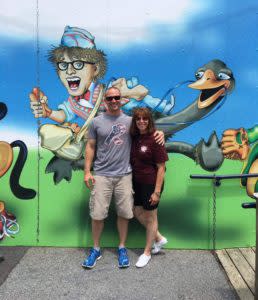 "Visiting Reading on our Major Minor Pennsylvania Baseball Road Trip was a highlight for our travelers. With the awesome assistance provided by Margo DeRouchie, National Sales Director of Pennsylvania's Americana Region, the stadium tour along with its history enhanced the game and the Doubletree staff rolled out the red carpet for our travelers. Thank you Reading for all you did to hit a home run with Sports Travel and Tours!"
Jay Smith
Sports Travel and Tours