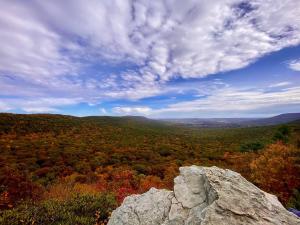 With crisp air and changing leaves, there is no better place to be than Berks County in the fall. From mountain ridge views to family-friendly train rides, it's hard to pick one place that captures the autumn colors and fall foliage. That's why we've created this perfect list!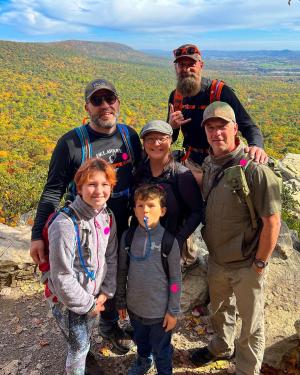 @hawkeyehoss
A large forest of red, orange, and yellow trees fill the valley area at the base of the Hawk Mountain Sanctuary, making it one of the most popular hiking destinations in Berks County, PA. There are plenty of trails perfect for viewing all of the changing leaves. Hawk Mountain is a two-for-one as it is also one of the best places in North America to watch the annual raptor migration (August 15 - December 15), which includes some of the largest and most charismatic birds in the world. On weekends, Hawk Mountain Sanctuary often offers kids activities, so be sure to check out all there is to see and do at Hawk Mountain Sanctuary. Visitors might want to arrive early on weekends or plan to visit on a weekday to avoid crowds due to the sanctuary's high popularity.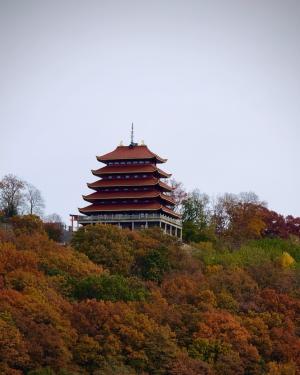 @budang_ski
Sitting atop Mount Penn, the Reading Pagoda can be seen for a radius of thirty miles. The vast area beneath is surrounded by beautiful trees changing color just in time for fall. This seven-story wooden building is perfect for viewing all there is to see below. The drive up alone has country roads filled with changing colors. Currently, the Pagoda is not open to the public. However, visitors can still enjoy great views from the parking lot of the iconic location as well as the various lookout points along Skyline Drive.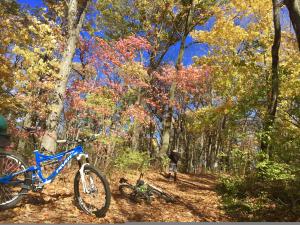 With over one hundred and twenty miles of biking and hiking trails for you to explore, the Greater Reading Trail System is perfect for leaf-peeping and viewing fall foliage. Trails take hikers through forests and mountaintops full of autumn colors. GRTS is also the only Bronze Level International Mountain Biking Association Ride Center in the northeastern United States, ensuring that you'll run out of time before you run out of trails.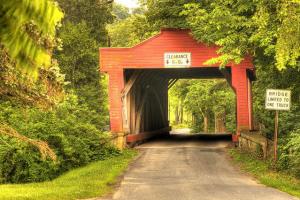 A self-guided driving tour of Berks County's five remaining covered bridges offers a beautiful insight into Reading's fall foliage. Explore the history behind Dreibelbis Bridge, Griesemer's Mill Bridge, Pleasantville Bridge, and more while enjoying the mesmerizing views around them. Driving deep into the heart of Pennsylvania's farm country, you'll also discover barn stars, a uniquely American art form, and the best-known symbol of the Pennsylvania Dutch. Barn stars are about pride, heritage, tradition, and a little showing off. They are placed facing the road so that they may be enjoyed by those passing by. Brochures for these tours can be found on the right-hand side of the linked web pages, through the Visitors Bureau, at rack card locations, and local hotels.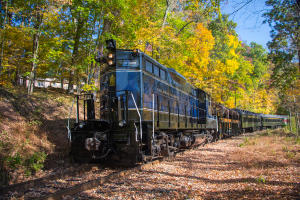 Sit back and relax on a leisurely train ride on one of the many railroads in Berks County. Each railroad provides its own unique experience. Reading and Northern takes you on a ride in a vintage 1920s-era train that has been completely restored. The Colebrookedale train ride is a definite on the to-do list, The Civil War-era train has been meticulously restored and offers themed excursions, a dining car, sensory-friendly events, and more. Last but certainly not least, the Allentown Auburn train stops at their own pumpkin patch, where you can pick out your very own pumpkin. Gaze out the window at all the mountains and valleys filled with fall colors for a fair price on a family-friendly train ride in Berks County.